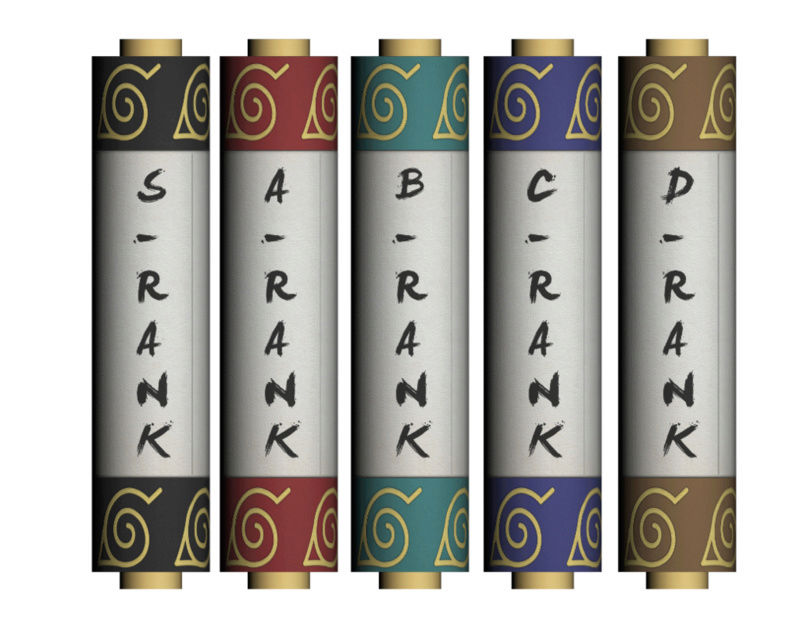 ---
THE MISSION SYSTEM
---
The main form of income for any ninja is taking on missions. There are six levels of missions, all broken down to their difficulty and the tasks they require ninja to complete. Please note that while preforming mission you are not allowed to loot anything from corpses or claim anything not mentioned in the rewards section. Of course, the higher level missions have a higher payout and are only available to higher ranked ninja. Below are the minimum rewards for missions per rank:
D-rank: 200 Exp and 200 Ryo
C-rank: 400 Exp and 500 Ryo
B-rank: 600 Exp and 800 Ryo
A-rank: 800 Exp and 1,500 Ryo
S-rank: 1,000 Exp and 3,500 Ryo
SS-rank: 2,000 Exp and 5,000 Ryo
Each mission requires a certain number of posts to be done before it can be considered "complete". These posts do not have a set required word count, but there should be an obvious amount of effort put in to each post. Users are not allowed to do any form of trainings during missions even if the training meets the same post requirements as missions.
D-rank: 1 post
C-rank: 3 posts
B-rank: 5 posts
A-rank: 7 posts
S-rank: 9 posts
SS-rank: 10 posts
Each rank of mission is reserved for those who are at the proper level to take on said mission, or those who have specific orders given IC from their kage. Below are the requirements for each mission type
D-rank: Anyone may take these from Genin up.
C-rank: Anyone may take these from Chuunin up, Genin require a team.
B-rank: Anyone may take these from Special Jounin up, Genin and Chuunin require a team. (Genin team must be lead by a Jounin)
A-rank: This is reserved for B-1 Special Jounin and regular Jounin and up only.
S-rank: This is reserved for those Jounin who are  A-1 tier.(Jounin of A-3 Tier can prefrom these missions with 2 additional A-3 Ninja. A-2 Ninja can preform this mission with one other partner.)
SS-rank: This is reserved for those who have attained S-rank Status.
Someone of a higher rank may take up to two lower ranked people on a mission that is ONE rank LOWER than their highest possible rank.
I.e. a Jounin who is able to take on A-rank missions can take up to TWO lower ranked ninja with him on B-ranked missions since A-rank is his max.
(Those who are not affiliated with a village may take on missions according to their tier.
D-1 to D-3: D-rank missions
C-1 to C-3: C-rank missions
B-1 to B-3: B-rank missions
A-3 to A-2: A-rank missions
A-1 to S-1: S-rank missions
S-1: SS rank missions