---
THE BIJUU SYSTEM
---
Welcome to the mechanics of the Bijuu on the site, in this thread the topic of Bijuu and Jinchuriki will be addressed and outlined.  
---
THE ONE TAIL- SHUKAKU
---
Shukaku is the first tailed beast, he is also referred to as the weakest. He has the smallest chakra pool of the Tailed Beasts but gives specialises in the area of Wind Release, while also having the ability to use Sand Release and Magnet Release. In terms of personality Shukaku is characterised as a wild and short-tempered individual, and often speaks in a bombastic and incoherent manner, giving it the demeanour of a drunken madman. It also expresses pride as it uses "ore-sama" (オレ様, Literally meaning: my esteemed self) when referring to itself, and holds great confidence in its own abilities, especially its absolute defence.
Shukaku relishes the opportunity to kill anyone in sight, even more so during a full moon. Like all tailed beasts, Shukaku has shown a strong desire to preserve its own life, granting its jinchūriki the power to control sand as well as allowing them to transform into it in a state of need and blood-lust. Shukaku harbours a bitter grudge towards Kurama due to the latter's beliefs that the tailed beasts' strength is measured by the number of tails, and thus Kurama views Shukaku as the weakest. Because of this, Shukaku will find any opportunity to surpass its arrogant rival. Stemming from this, Shukaku can be quite childish and boastful, often bragging about its feats.
---
THE TWO TAILS- MATATABI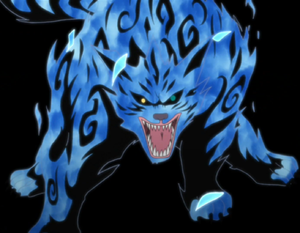 ---
Matatabi is the second tailed beast and is often overlooked due to her few tails and lower chakra pool. She specializes in the Fire Release and gives her jinchūriki access to a special blue fire release which holds more power than a typical fie release technique. In terms of personality, compared to most of the tailed beasts, Matatabi has shown to be respectful and polite towards others, speaking in a formal manner using "watashi" (私) when referring to itself and using honourifics when speaking to younger shinobi.
Matatabi tends to favor a diplomatic approach to a combat role. She is also seen to be one of the easier to get along with for her jinchūriki and is much more prone to allowing them access to her chakra. This isn't to say she makes it easy and hands it out freely, it is to say that she isn't as stingy and just needs to see what kind of person they are before she agrees to work with them.
---
THE THREE TAILS- ISOBU
---
Isobu is the third tailed beast. With the third least tails and the third least chakra, he is not seen to be as weak as his younger brother and sister, but he isn't seen as being nearly as powerful as the others. He is most commonly associated with the Water element and as such offers his host a heightened control of the Water element, including a much faster swimming speed. This is not to include the ability it grants to create a hardened coral type structure. In terms of Personality, Isobu speaks in a timid manner, referring to itself as "boku" (ボク) which is usually used by young boys. This may imply that he has a childish mind.
Due to his low maturity level, Isobu is a bit easier for ninja to get along with, though he can sometimes be stubborn. He is always willing to help his jinchūriki should they get into a tight spot. He is sometimes seen as overly trusting, but he actually gets along with all of his siblings other than Shukaku, the one-tailed tanuki.
---
THE FOUR TAILS- SON GOKU
---
Son Gokū is the fourth tailed beast. He is known for his skill with both the fire and earth elements, bring able to use them simultaneously to create the Lava element that he grants to his host. In terms of Personality, Son Gokū is a very prideful tailed beast, as he detests being called by the name "Four-Tails" and boasts about its lineage. It uses "ore" (オレ) when referring to himself. He also hated humans, as he views them as corrupt and inferior, and believes that apes are more intelligent than humans. However, when talking about the Sage of Six Paths, he showed him great respect. He also treats his fellow tailed beasts with much respect, as he addresses them by their name, as seen with Kurama. Son also has a high amount of respect for those who respect the tailed beasts.
He respects his fellow Bijuu a great deal and as such has a positive relationship with all of them. Though it is clear that he is disapproving of Kurama's pride and Shukaku's insane tendencies, he still refers to all of them by their names with respect. He tends to get along the most with Kokuo, the Five-Tails.
---
THE FIVE TAILS- KOKUO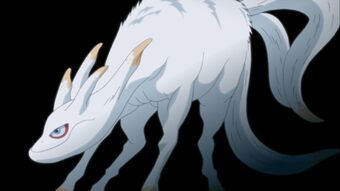 ---
Kokuo is the fifth tailed beast and is known for being in the middle of power and tails as far as the tailed-beasts go. By combining water and fire-natured chakra to create Boil Release, Kokuō is also able to increase the temperature of chakra to its boiling point. This ability forms the basis of what is referred to as "steam-based ninjutsu" granting itself, or its jinchūriki, overwhelming physical strength. When in use, this ability causes the jinchūriki to emit copious amounts of steam from their body. In terms of personality, Kokuō seems to be a quiet and reserved individual. Though it does not speak much, Kokuō uses the rather old-fashioned "watakushi" (私) when referring to itself, causing it to come across as very polite.
Kokuo is also very pacifistic, so it tries to avoid confrontation. It is the one to try and quell the arguments his siblings get into. He will also be one to aid his host if they get into a battle that they are losing. Though, he will avoid any confrontation if possible, he will fight if backed into a corner.
---
THE SIX TAILS- SAIKEN
---
Saiken is an enormous white bipedal slug with stubby arms, feet and six long tails. It has two prominent optical tentacles (eyes) and hole-like openings as a mouth. Its entire body is covered in a thick, slimy substance. As a tailed beast, Saiken has a massive amount of chakra and can use it to create a Tailed Beast Ball. Saiken has shown the ability to emit corrosive substances that can instantly disintegrate its target on contact in the form of liquid or gas. It possesses an affinity for Water Release. It can expel a sticky, adhesive substance from its mouth, which is capable of trapping its targets, and the ability to use Soap Bubble Ninjutsu.
Though much has not been seen of Saiken's personality, the giant slug uses "ore" (オレ) when referring to itself, "ore" being a boastful way of saying "I". This isn't to say that Saiken is rude r mean-spirited however, as Saiken also seems to be kinder and not as self-serving and malicious as most other tailed beasts, often helping its host in times of need without trying to consume their body. It is not above killing for self preservation though and will not hesitate to defend itself or its host.
---
THE SEVEN TAILS- CHOMEI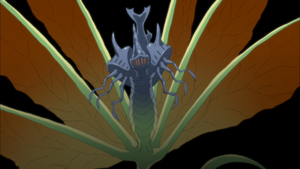 ---
Chōmei resembles a blue, armoured kabutomushi (カブトムシ, rhinoceros beetle), with six of its seven tails resembling green insect wings, along with an actual seventh tail, all growing from the end of its abdomen. The stem of the tail is green but the wings are orange. Its eyes seem to be covered by a helmet-like skull, from inside of which, an orange glow can be seen. It also has spike protrusions on its shoulders and a row of slits on each shoulder, and six legs — three on each side. The legs are also covered by the blue armour, with the exception of extreme ends which are green in colour. It has two pincers with three parts on its face, covering a mouth full of sharp teeth.[11] On its back behind its head, it has a large two sectioned horned protrusion. As a tailed beast, Chōmei possesses massive amounts of chakra that it can share with others and can use the Tailed Beast Ball. Using its wings, it can emit blinding powder and has the ability to fly. It also utilises insect-based attacks, such as biting or ramming its horn into the enemy. It can also create Chakra Threads for a Cocoon which blocks Chakra Absorption Techniques.
Chōmei seems to have a happy, go-lucky personality as seen when it introduced itself to new people, referring to itself as "Lucky Seven Chōmei" (ラッキーセブン重明, Rakkī sebun Chōmei), which might be an allusion to the fact that it has seven tails and the number seven having long been seen as a lucky as well as a happy number. It also had a habit of using the word lucky in conversation, reflecting its personality.
---
THE EIGHT TAILS- GYUKI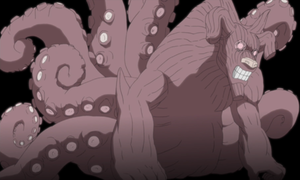 ---
Gyūki is an ushi-oni with four long horns on its head, similar to that of a Jacob sheep. As a tailed beast, it is extremely massive, dwarfing entire forests and towers over large rock formations and buildings. Gyūki also has a muscular upper-body structure, with a hunched back similar to an American bison, arms with spiked protrusions on the elbows, and hands with opposable thumbs like that of a human. Instead of hind-legs, its lower half consists of its eight tails, which resemble the cephalopod arms of an octopus. These tails will grow back in the event they are sliced off.
As a tailed beast, Gyūki possesses a massive supply of powerful chakra and can share it with others. It can replenish its high reserves shortly after an entire day's usage. Should the need arise, it can disturb its hosts chakra with its own to dispel powerful genjutsu. Gyūki's tentacles, if severed, can be used as a medium for its chakra, such as creating a clone of its host, or transferring chakra to said host should the beast be extracted. Gyūki can perform the Tailed Beast Ball, being able to fire it normally, consecutively or as a massive wave. Going with its octopus theme, it can produce ink to blind its enemies or form ink clones to seal them.
Gyūki is characterised as a tough and serious individual. It uses "ore" (オレ) when referring to itself and often speaks in a somewhat rude dialect. It is also known to be very practical and analytical, often looking far ahead to the consequences of its actions before it does them. It is known to dislike humans and can be a bit difficult to befriend at first but given time, it can become an extremely loyal and beneficial friend.
---
THE NINE TAILS- KURAMA
---
Kurama is a kitsune with nine long swiping tails. It has red-orange fur with black fur around its eyes that stretches to its ears, red irises with black slits for pupils and the upper-body structure of a human, complete with opposable thumbs on its clawed hands. While manifesting its Nine-Tails Chakra Mode, the fox's entire body takes on a golden colour, its whiskers are much thicker, and black circular markings appear on its shoulders, stomach, as well as the front and back of its paws. Black lines also run the length of its spine, arms, legs and tails. Even for a tailed beast, Kurama possesses massive reserves of powerful chakra, it also has a great deal of brute force, reputedly able to raise tsunamis and flatten mountains with just a single swipe of a tail. As a tailed beast, Kurama can create a Tailed Beast Ball, able to fire it in various forms such as a continuous beam or rapid multiple spheres. Unlike most tailed beasts, Kurama can supercharge it, creating one many times its own size for much greater power, even on low chakra.
Kurama is a cynical and shrewd individual, along with a somewhat twisted sense of humour. It uses "washi" (ワシ) when referring to itself, which is generally used by older men. Kurama expresses great pride in its power, believing itself to be the strongest of the tailed beasts due to its belief that their strength is determined by their number of tails, which earned Kurama nothing but disapproval from its brethren, especially Shukaku. It has never had a good relatinship with humans, thus now it truly hates them. In the event that it is sealed, it would use every opportunity to escape. It will be a true challenge for anyone to gain Kurama's trust and acceptance.